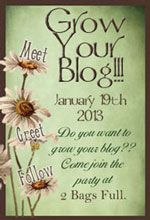 Many thanks to
Vicki
over at
2 Bags Full
for letting me be a part of her Grow Your Blog party.
My blog was created to share my stitching journey with people who enjoy stitching as much as I do. Every new start has a story. I choose patterns that speak to me, so my projects vary. Sometimes I get a subtle prompting that keeps me going to the chart again and again before I buy. At times a design leaps of the page and demands immediate purchase. Although I was taught to cross-stitch a long time ago, it's only been over the last 2 years that I've been stitching consistently. This year, I have pledged myself to tackling charts that challenge me, learning new stitches, and committing to large projects. Also, 2013 is the year I stitch for me, so fewer gifts for loved ones and more things for me to cherish.
More facts about me? If I'm not spending my free time with a needle in hand, I'm probably caught up in a book. Some of my earliest memories involve me and my mom at a bookstore. Actually, we still include a visit to the bookstore in all of our outings. I also love to bake. So don't be surprised if an occasional recipe finds its way to the page. There's something so satisfying about stitching with the smell of something delicious baking in the oven. Oh, I live in Philadelphia, Pennsylvania and I detest cold weather. Every winter I vow to move someplace where it's warm all year 'round!
Well, that's enough about me. Time to get back to stitching. Thanks for stopping by and please feel free to leave a comment. Until next time.
Happy Stitching!